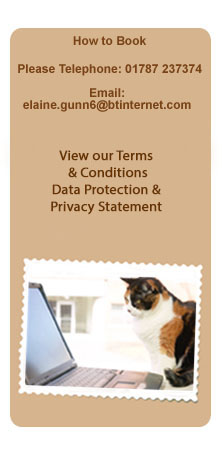 Paws Awhile Boarding Cattery Terms and Conditions

Only cats that have a current vaccination certificate against Feline Infectious and respiratory infections (Cat Flu) can be accepted for boarding.
**PLEASE NOTE** vaccinations must be completed at least 10 days before boarding at the cattery.
Owners must produce an up todate certificate on arrival to comply with boarding regulations. If you
let your annual vaccination lapse, your cat may need to re-start the programme with two vaccinations – an initial one and then a booster approximately three weeks after. If you are in any doubt, please seek
advice from your vet. These will be retained by Paws Awhile until collection. No cat will be accepted without one. There are no exceptions, regardless of circumstance.

Please ensure your cat has been adequately treated for fleas and worming before boarding, to prevent any risk of infection to others. Your vet will advise you.

Any Prescription diets to be provided by the owner. Should your cat be receiving any medication whilst in our care, we will be happy to administer. However, there will be an additional charge of £0.50p per day per cat. We cannot administer innoculations.

Male cats over the age of seven months, which have not been neutered, will not be accepted for boarding as they may present an infection hazard.

All cats will be examined on arrival. The proprietor reserves the right to refuse admittance to any cat, that in our opinion, appears to be suffering from any signs of ill health pending advice from a Veterinary
Surgeon. Owners will appreciate that this is essential in order to safeguard our other occupants.

Any recent illness or veterinary treatment that your cat(s) have received prior to arrival must be advised of. Cats will not be released or accepted outside our normal working hours, unless prior arrangement has been made. Any veterinary treatment considered advisable will be carried out at the owners expense.

Only cats from the same household may share accommodation.

A 25% deposit is required to secure your booking – this is non refundable.

Boarding fees are payable in full on day of departure. If a booking is cancelled within 14 days of the arrival date, there will be a charge of £30.00 per chalet to cover administration costs.

If a booking is cancelled within 7 days of the arrival date, full boarding rates will apply.

Whilst every care and precaution is taken during boarding, responsibility can only be accepted at the owner's risk.

Owners should be aware that in the event your cat is not collected within 14 days of the date on which it is scheduled to leave, and that no communication is received from the customer, then the proprietor
reserves the right, and at their discretion, to seek alternative arrangements.